Welcome to the Yakari Wiki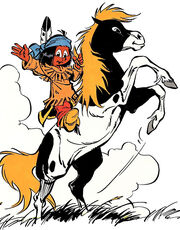 Yakari
is an ongoing Franco-Belgian comic book series on the adventures of a
Native American boy
living among the peaceful Sioux people in the Great Plains.
Yakari is a young Sioux Native American who has the particularity to be able to understand and speak animal languages. During his adventures, he meets all sorts of North American animals. His best friends are a girl Sioux, "Rainbow", and his pony "Little Thunder". He has a totem animal, "Great Eagle", who frequently appears to him to give him critical advice.
Along with the comic, Yakari has been adapted twice into a cartoon series adaptation in 1983 and 2005, and a French animated movie adaptation released in 2020.
Characters
About
The Yakari Wiki is an online base dedicated to the classic comic, cartoons, and feature films, made by fans, for fans. We currently have 29,713,082, 53 articles, and 77 images on this wiki.
Interested in joining? Click here to sign up and start editing today!
Contribute
To upload a picture, click here
To expand stub articles, click here.
To write a new article, just enter the title in the box below.
For more resources, you can visit one of the following: Administrators • Recent Changes • New Photos • New Pages